So excited to share this Vegan Chorizo recipe with you and yes I am just sharing it!
This Vegan Chorizo recipe was developed and put together by an amazing Vegan Blogger Veggie Rose
Her Youtube channel is packed full of amazing Vegan recipes and her subscribers are crazy about her……But why am I giving her all this love?
Well, she showed us as Cooking Gods a whole lot of love!!
We offered to sponsor one of her cooking segments and she accepted! She does not do many sponsored posts so we were pretty excited to be featured
I want to share her amazing creation and make sure she gets all the credit ( We will take credit for making the recipe prep a whole lot easier though!!)
And here is the actual recipe
Remember to use a good set of measuring cups and spoons to get the same taste that Veggie Rose achieved.
To guess some levels of seasonings can make an impact on the taste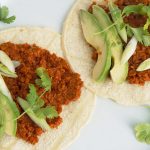 Vegan Chorizo Crumble
Easy Vegan recipe to make and even better that it is Gluten Free!

Ingredients
Ingredients

1/8

tsp

oregano

1/2

small red onion

2

tbsp

tomato paste

2

tsp

soy sauce

2

tsp

apple cider vinegar

1

tbsp

nutritional yeast

1/2

tsp

chili powder

1/8

tsp

cayenne pepper powder

2

tsp

onion powder

2

tsp

garlic powder

1/4

tsp

annato powder

1

tsp

paprika

1/4

tsp

cumin

1/4

tsp

poulrty seasoning

1/4

tsp

ground black pepper

1

cup

red enchilada sauce

1/2

cup

vegetable stock

for a drier crumble 1/4 cup

1

cup

TVP
Instructions
Instructions

Add all ingredients EXCEPT for the TVP into a blender and blend until smooth.

Add mix into a small to medium pot and heat until the mix comes to a boil.

Add in the TVP. Mix around and allow liquid to reduce on medium high heat covered.
Cooking Gods is a participant in the Amazon Services LLC Associates Program, an affiliate advertising program designed to provide a means for sites to earn advertising fees by advertising and linking to www.amazon.com