All too often I make dinner and have the delusional thoughts that I have made enough to feed the family and possibly have left overs for my lunch the next day.
With 14 year old twin boys who play sport most days , I can never feed them enough.
I also have one of those husbands who "don't like all that healthy stuff"
So our meals have to be quick to make but also use simple ingredients…..It is only when my husband is away can we have more other options like quinoa, barley or lentils as a way to bulk up meals
This risotto is super easy to make and feeds 6 people easily.
You can also add what you like to it. The main thing is to get the rice to stock ratio correct and to prep the ingredients to suit.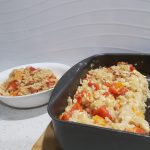 No stir risotto
A quick to prep and make meal that will feed a crowd. Change ingredients to suit your families tastebuds.

Ingredients
1

large onion

3

tbsp

olive oil

knob of butter

1-2

garlic cloves

300

g

Chorizo sausage ( Or any other deli style cured meat – salami

bacon

3

cups

risotto rice

6

cups

hot vegetable or chicken stock

2

red bell peppers

capsicum diced

2

medium sweet potatoes diced into .5 inch squares

1

cup

grated Parmesan

Salt and pepper to taste

Aluminum foil or a tight fitting lid
Instructions
Method

Finely chop 1 onion. Heat 2 tbsp olive oil and a knob of butter in a pan, add the onions and fry until lightly browned (about 7 minutes).

Add chorizo and fry for a further 5 minutes, until it starts to brown.

In a large lasagna or roasting tray – I use a large roasting tray that also has a lid

Add all ingredients – the risotto rice , hot stock, cheese, diced vegetables and sauteed onion and chorizo

Cover with a fitted lid or a double sheet of aluminum foil that tightly covers the tray

Cook at 360F or 180c for 40 – 45 minutes

Stir before serving as all the ingredients will be sitting on top of the rice.

Sprinkle with extra freshly grated parmesan and freshly ground black pepper.
You can see our measuring cups were used to measure the rice.
If you are looking for an easy to use and durable set – You can grab our set on Amazon