The BEST measuring cups and why we sell them.
This review will help you choose a great measuring cup and spoon set that will last a lifetime and is the most practical for all cooks.
I thought long and hard about writing why we had the best measuring cups and spoons…I know we have them but why would anyone believe an article from someone who sells them.
We sell them so why would my opinion be the right one.
So I started thinking about how we actually chose the set we sell and the time it took to make sure we got it right.
I knew I wanted to sell cooking utensils and measuring cups and spoons are kitchen gadgets that I use all the time.
It was actually my set of measuring spoons that use to drive me crazy when ever I had to measure out spices.
When I started researching the different cups and spoons I ordered a heap of samples.
I wanted to try them and to make sure that the quality was spot on
This is how I knew that the set we sell as Cooking Gods is the BEST Measuring Cup and spoon set
And if you don't believe me…..We just got reviewed by a review site and we came out on TOP out of 5 Measuring Cup and Spoon Sets
Better Food Review

I compared 3 Best Selling Sets on Amazon

Lets compare the 2 different styles for solid stainless steel cups
There are other styles on Amazon and they are made from 2 or more separate pieces eg The handle is riveted or welded on to the cup.
First off – why did I want solid one piece?
Reasons are:
I put everything I can into a dishwasher – I have found that ANY utensil with attached pieces like a riveted handle or silicone grips , attached handles will eventually come lose, fall off or become discolored.
I wanted to sell products that would last a life time and be safe.
I also want to note that the 2 other sets I reviewed – I did compare them for accuracy and all 3 sets were equally accurate with their weights and measures.
The Measuring Cups
There are 2 styles of solid 1 piece cups.
First style of cup – These are the model that Cooking Gods and KP Kitchen sell. The handles are slightly longer – so it means they are easier to hold and this photo has them side by side so you can see the handle length difference.
They also stack better and do not clank around – This was important for shipping as it meant there was less damage to the cups and less packaging needed.
Also not having the lip meant there was less damage done to the cups during manufacture.

The second style is like what is sold by Easy 1Life
They look good and have a small spout/lip for pouring.
Now I loved the idea of this as no one like spills but after using them I realized that the handles are a lot shorter and they do not stack as well.
Also the tab at the front of the cup to keep them stackable is small and not as solid as the other one.
Also pouring liquid – I only tend to use the smaller cups when measuring liquids. I use a measuring jug when when I need more than a cup so I pour easily out of a jug rather than needing a spout in a cup.
The Measuring Spoons
Now this is where I shake my head…..Why on earth would a round spoon be still designed like this?
It does not fit into any of my spice jars
Spices are what I tend to measure the most of and they are messy and expensive…So shaking spices into a spoon is something that I avoid doing.
I have attached photos to show the differences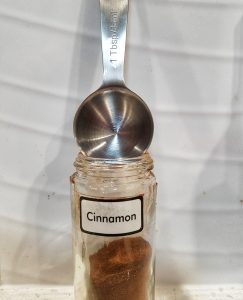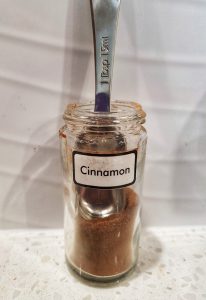 And a video that really shows the difference

Now I also know there are some magnetic spoon sets out there and I really really liked the idea of them – But I went back to my priorities. Solid molded one piece utensils that would not come apart.
If you read the reviews on some of the sets – Magnets dropping off happens and also I know from past experience that items like this do not wash that well in the dishwasher…Plus magnets in my utensil drawer – Did not appeal as my utensils are stainless steel where possible..
And then the BONUS!
I live in Australia and we use metric measurements.
When I see a recipe I will only use recipes that are easy to convert so anything with cups and spoons is a universal measurement.
The Magnetic conversion chart is a handy reference and it looks great!!
There were a couple of other sets being sold with this bonus set…But they were all round spoon sets , so I knew that by combining the best cups, the best spoons – the rectangular ones and an awesome bonus, that I would be on to a winning product!!
So there you have it – That is why I know my set is the best and to help seal the deal for anyone reading this
Here is an extra bonus to get an extra 20% off at checkout KUY8C5IR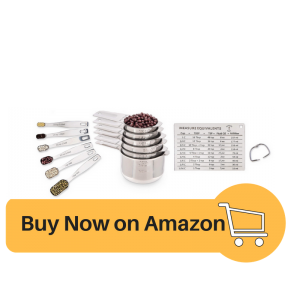 Cooking Gods is a participant in the Amazon Services LLC Associates Program, an affiliate advertising program designed to provide a means for sites to earn advertising fees by advertising and linking to www.amazon.com