The pantry is usually an area in the home that is a source of frustration.
It is an area that the whole family uses and easily gets trashed and out of order if there is no system in place.
Simple storage ideas will quickly give you an organized pantry makeover that not only looks great but will save you money and time.
The money saving happen when you can find what you need in your pantry. How many times have you thought you had a jar or bottle of "something" and then could not find it?
The next time you shop you buy a replacement…Only to find it hidden at the back of a shelf.
I also get upset when I realize I have had ingredients expire or go stale due to me not using items in the right time line order.
Getting your food items into storage jars, canisters and baskets will make your pantry function better, look better and keep to an orderly system.
No DIY skills needed for this pantry makeover and all items are available on Amazon and delivered to you within a couple of days


Using Your Space Wisely
Space is usually the main concern for pantries. You need to make the most of what you have – Your pantry will not work smoothly if items are not easy to see, reach, find or put back.
Do not make it complicated and make sure to remember heights of the people using the pantry. If your kids need to reach items – put them down low or the opposite if you need to keep things out of reach of children
Now for 10 items that will do the trick and look great!
1. Baskets

These are a super easy way to instantly change a pantries dynamic. They quickly organize items into groups. You can decide if you will use baskets to keep a group of ingredients together eg – Baking ingredients or if you will use baskets to keep certain food items together eg all your pasta packets
Basket types are plastic, wire or wicker.
I have avoided fabric finishes as I find fabric can get grubby.
You baskets can either be see through or opaque
Opaque baskets are a great way to "hide" items that can look cluttered in a pantry -eg school snacks or vitamins.
These are smaller style baskets that you can use on the higher shelves.
Bigger baskets I have called tubs or crates and they are in the next section and they are better for lower shelves.
Click on the Images to go directly to Amazon
2. Tubs and Crates
These keep the keep larger or heavier items group together in a great looking and practical way.
Some baskets will come in several sizes so you can use 2 or 3 different sized baskets to use on all shelf levels
Some items that can go into tubs and crates are potatoes and onions , boxes of cereal, baking tools – like cookie trays or cake tins
You can decide if you want transparent so you can easily see what is in each one – or you can use opaque style. No need to keep things as tidy inside an opaque tub.


3. Shelf Height Adjusters
How to maximize space with adjustable shelf heights.
Perfect for displaying spices and jars. This allows easy visibility of what you have in your pantry and is a way to keep items together in groups.
Perfect for your jars, spices, oils and vinegars. Put the taller items at the back and the smaller items at the front.


4. Hanging Options
There are some great hanging systems that go over a door or use the shelf ledge – No nails or screws required!
These items are an incredible way of helping a smaller pantry to have more space and look stylish as well.
These are perfect for smaller items that you need to grab quickly such as cling wrap, alfoil, spices, condiments, vitamins and first aid items.
5. Stack it
Another way to use available space but still keep your pantry looking amazing is to use stack systems.
Keep cans looking great and a way to keep them in date order.
Choose from wire or clear options.
Stacking baskets are perfect when you have roomy shelf heights to optimize the most space savings.

6. Jars
Glass is the new black! Not only will they keep your food fresher, they look great and are a low tox alternative to store your food. Do not think that you have to have it all matching with identical jars.
Very easy to see when you are running low on an ingredient so you can add it to your shopping list.
With a simple trick of using matching labels you can tie all your jars together for a cohesive look.
Labels…….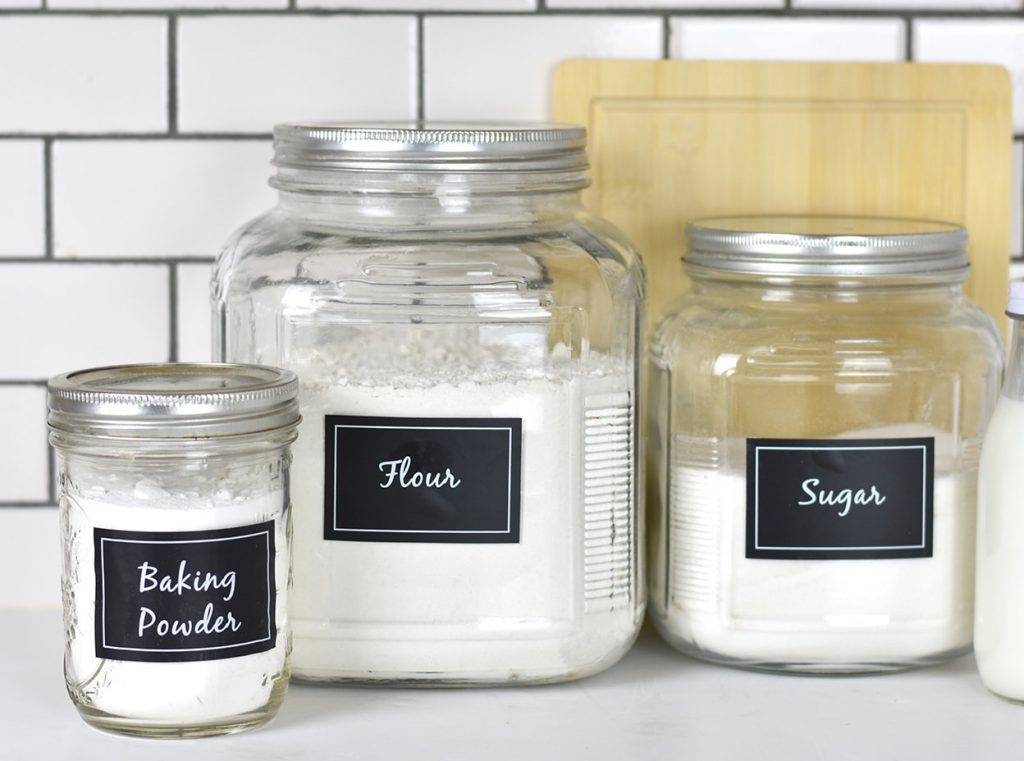 I mentioned labels for your jars!!
The best set of labels on Amazon are from Cooking Gods. Many professional organizers recommend these labels to all of their pantry makeover clients
Grab your set and get a 10% discount too!!
Click on this image to get the discount applied at checkout


7. Canisters
Canisters can be ceramic, plastic or metal (usually tin or stainless steel)
Square canisters are perfect for stacking and to make use of all available space. You do not have to have all matching canisters. Mix them up with other types and jars. Tie all your pantry together with a matching set of labels.
Some canisters are airtight and some are not. Airtight canisters will keep your food fresher and they also stop insect contamination.
I have selected only airtight canisters for this guide.
Canisters can be a beautiful focal point in a pantry or they can be placed on a countertop.


Labels…….
I mentioned labels for your jars!! Well they are perfect for your canisters too!
The best set of labels on Amazon are from Cooking Gods. Many professional organizers recommend these labels to all of their pantry makeover clients
Grab your set and get a 10% discount too!!
Click on this image to get the discount applied at checkout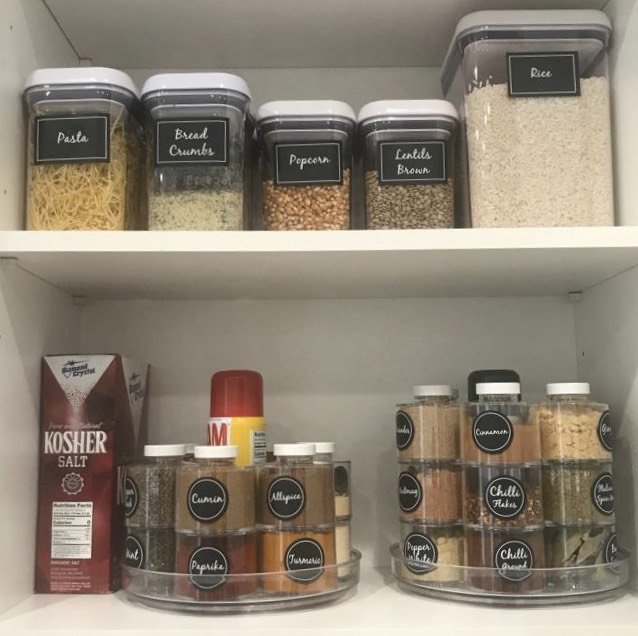 8. Spices
Spice organization could almost be an entire blog post!!
I have written a Spice Organization post HERE if you want further ideas
But some quick and easy ways to get started with your spice organization.
Tips from the experts are to have your spices clearly labeled ( See the labels above!)
Have your spices easily accessible to where you are cooking and the last tip is not to be a spice hoarder!!
Keep only the spices that you constantly use. If you have to buy a specialty spice – buy the smallest quantity or better yet – Try to borrow it from a friend or neighbor
Use square jars if you are storing them on a shelf or tray. Being square you can fit more into the area.
Use round jars if you are using a rack or storage system where the jars have to easily slot in.

You will have to decide what will work best in your available space
The main consideration always is – Easy to reach and easy to put away
You can have racks or shelves in your pantry
Or you may decide to put a rack or shelf on the bench top close to where you cook


9. Spin
Get the most out of hard to get to corners or an easy way of storing small light weight items that easily get lost.
A lazy Susan or turn table is perfect organization tool to use.
You can buy a flat or low rise one – perfect for heavier items like jars and bottles.
Or look at high sided ones – perfect to keep small light weight items together – like sachets or pouches.
To maximize space there are also 2 story options.

10. Racks
So many cool rack ideas!! Most pantries will also have some kitchenware or bake ware stored in here too. Baskets can be a way to keep some items but there are always items that you just need to easily grab them and put them away.
Tell me if you found this article helpful and I would love to hear if you implemented any of the ideas!! Leave a comment and please Pin and Share it if you found this useful.