I recently asked my followers, "What was the first thing they cooked as a child?"
The responses surprised me…Many of them said that baking brownies was the first thing they made by themselves.
I had to make the admission that I had never baked brownies nor had the thought to make them ever crossed my mind.
The back story is that I am an Aussie and brownies were not a commonly baked item when I was growing up.
We had English baking influences with items like slices and sweet biscuits. ( crisp or crunchy cookies)
I had only tried brownies a couple of times and while I liked them they were not something I would purchase at a bake sale or at a market.
( I go straight for the mini egg custard tarts or a lemon slice)
So my attempt at Baking Chocolate Brownies began.
I realized there were 3 general ways to bake a brownie and I tried each of them.

The Packet mix

I bought a packet mix that got rave reviews by a food blogger.
It was super easy with just 2 eggs and melted butter needed and it was a 1 bowl and wooden spoon recipe
It was super rich and while the whole family enjoyed them – they did not have that home baked feel about them. They tasted exactly like a store bought product.
I would use a packet mix if I had a last minute event.

The Chocolate Based Brownie
We did really enjoy these but I don't think they would be a regular baking occurrence as ANY chocolate in the house will be eaten by my scavenging teenage boys. I had to smuggle the chocolate in for this baking experiment and hide it for the week before I made them.
All other times I have bought baking chocolate for dessert or cake I need to bake – it gets eaten before I get to use it and all hell breaks loose with the interrogation of who was the thieving little sneak!
The recipe I tried was in one of my personal cookbooks and I have found a link to the recipe online as well
Please note that it uses metric weights – Recipe here
I will convert the ingredients to imperial weights and Cups and Spoons!

200g good-quality dark chocolate = 7oz
120g unsalted butter, chopped = 4oz
1 teaspoon vanilla extract
200g brown sugar = 1 cup of brown sugar
2 eggs
150g plain flour = 1 cup and 2 teaspoons of All Purpose flour
1 teaspoon baking powder
1/2 teaspoon flaked salt
100g of extras – chopped pecans = 3.5oz or 3/4 a cup

That is the beauty of recipes with cups and spoons.
They are almost identical measurements for anywhere in the world.
You may only be a teaspoon under or over from country to country.
When I am cooking at home I use cups and spoons or metric weights.
When I am writing out a recipe for a blog post I will always use cups and spoons as there is no confusion!
This is one of the reasons why Cooking Gods sells measuring cups and spoons!
Are you after an accurate measuring cup and spoon set?
Our set will last a lifetime –
Click on the image to grab a 10% coupon code and a link buy to on Amazon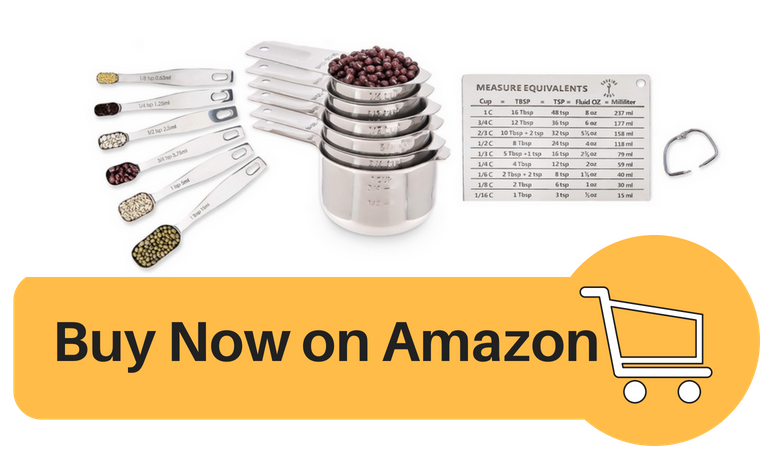 The Cocoa Based Brownie
At this time I wanted to talk to a baker that actually had some brownie experience.
I found such an expert!!
Her name is Traci and she hails from the South (Mississippi) and now lives in Florida.
Her background is over 30 years of professional cooking and making thousands of batches of brownies!
Her blog site is Mississippi Delta Hospitality – Click here to visit her site.
She cooks non stop and her blog has constant new recipes!
She had a tried and true brownie recipe that she used in her professional life using top quality chocolate but she knew that for the home baker, they would not always have access to top quality chocolate.
Her answer to this, was to develop a cocoa based brownie that was the ultimate chocolatey fudgy brownie that matched her professional recipe.
A link to her Brownie recipe is here!!
And yes I made Traci's recipe and it won the families vote from the 3 brownies batches I made !!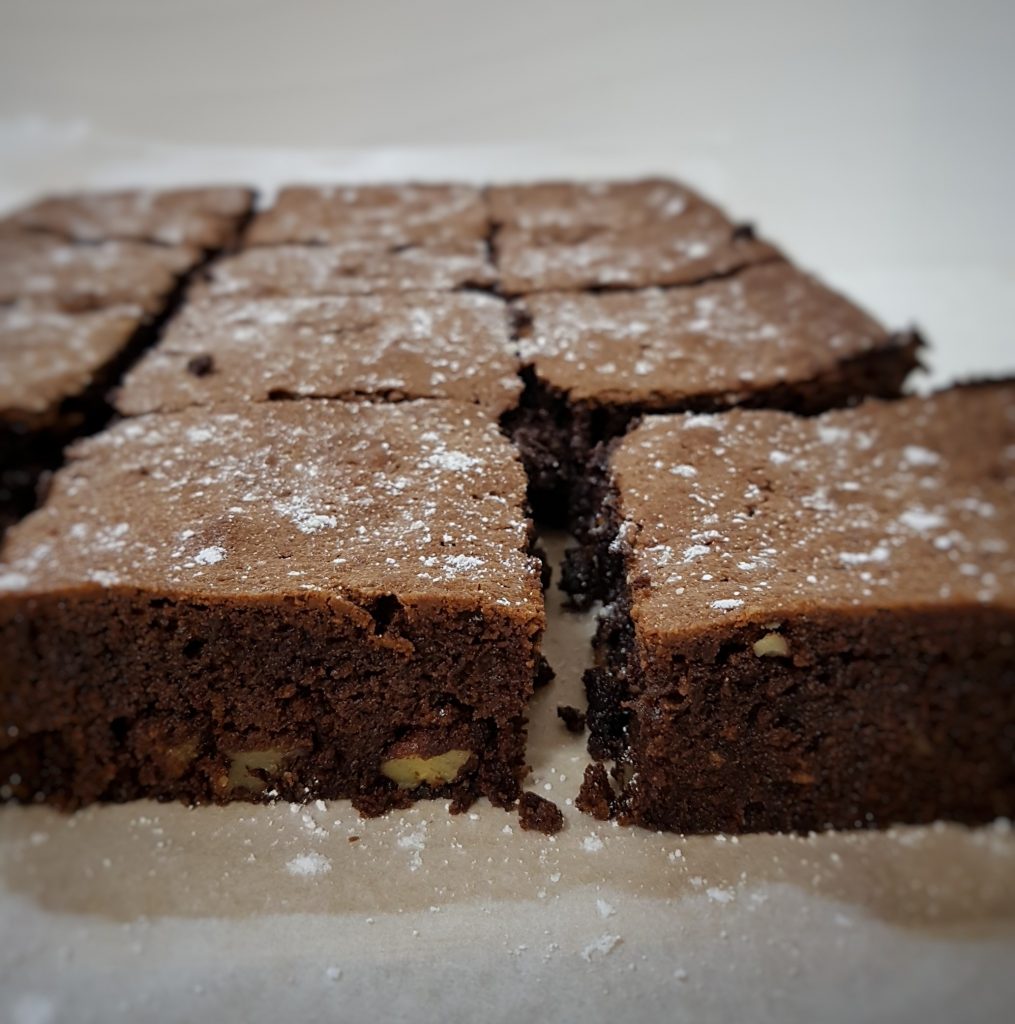 I asked Traci for her tips and advice when Baking Brownies
I asked Traci some hard hitting brownie questions and she was gracious enough to give some of her tips. I know this will help your next batch of brownies to be even better!!

Q: What exactly is it that makes a brownie a brownie?
A: Brownies are brownies because they do not have any leavening agents! (they would be cake otherwise

Q: What extras should you add to a brownie? I have seen all sorts of fancy ingredients in recipes and blog posts.
A: As a brownie purist. The only added items to a brownie should be nuts (either pecans or walnuts) and serve it with vanilla ice cream.

Q: What is your favorite frosting or topping for a brownie?
A: A great brownie does not need frosting!
But the older ladies in the south do make a great Crème de menthe frosted brownie as peppermint is not too sweet and goes well with chocolate.
Traci actually messaged me the next day to add to her answer :
If you do want to frost your brownies – Anything that you would use on a chocolate cake will work – peanut butter, coffee or chocolate ganache

Q: Would you add coffee to your Brownies to enhance the chocolate flavor?
A: Yes! Adding coffee will bring out a deeper and richer chocolate flavour. She suggested to use an espresso powder in the bake – King Arthur is a popular brand on Amazon

Q: Do you prefer to bake in a gas or electric oven?
A: I love gas! It bakes with more moisture. An electric oven tends to be a drier heat which does dry out your bake. With an electric oven you must watch your bake time a lot closer.
Always use the middle tray rack and if you do bake two trays – Swap them at halftime to bake them evenly. If you are using a glass baking tray – reduce your oven temp by 25 degrees.

Q: Best way to eat a brownie
A: Brownies are best eaten when cooled down and if you can wait, they will taste even better the next day!
If you are wanting a decadent brownie dessert – Make a Brownie Sundae with raspberries/strawberries, ice cream, topped with crème anglaise , ganache or a coulis.

Q: Any last words of advice?
A: ALWAYS under bake your brownies
Brownie Baking Essentials

Baking brownies does require a few items
A quality mixer is super helpful when using Traci's recipe as it calls for 10 minutes of egg beating!
I have listed a few mixers.
Note – Traci loves, uses and recommends the first mixer listed below.
In her professional opinion , It is a workhorse and will out last other popular brands!



Other items needed are the baking pans
Note that recipes will either require a square pan and it is usually a 9×9 or a rectangle pan and 9×13 is a standard size
I also found a highly popular Brownie specific pan!


And remember those measuring cups and spoons!