This is a delicious lemon and sour cream cake and  it was an easy choice to bake
You see, when I bake there has to be two factors!!
There has to be a reason!
Either a birthday or someone is coming to visit!!
The second reason!
I have an ingredient in the fridge or cupboard that needs to be used!!
For this cake the the first and second reason was in play!
I had a tub of sour cream that was due to expire and I dislike wasting food and my mother in law was coming to visit – So a nice cake was definitely needed!
When choosing a recipe to use – I have two ways.
I either google the ingredients I have on hand and find a recipe that works or I look through the cookbooks and magazines I have and see what will work.
I live in Australia and we have a chain of supermarkets called Coles.
Each month they have a free recipe magazine and I LOVE grabbing my copy and looking through to see what I can make. The recipes are always seasonal and cover the upcoming holidays.
When it is Christmas time – Each year Christmas lunch is made from recipes from that years magazine. It always is exciting to pore through the magazine and earmark what I will be making that year.
I usually have my mum and dad over for lunch and mum knows that she will have the recipes put n front of her and together we work through what I have selected.
It always pushes her out of her comfort zone – She wants a simple roast and plum pudding.
Nope – she gets salads, sea foods, side dishes and desserts that she has never tried.
My dad and kids love the what I plan as I will stick to a theme, while my husband and mother pine for a simple traditional lunch!
Ok back to the cake!!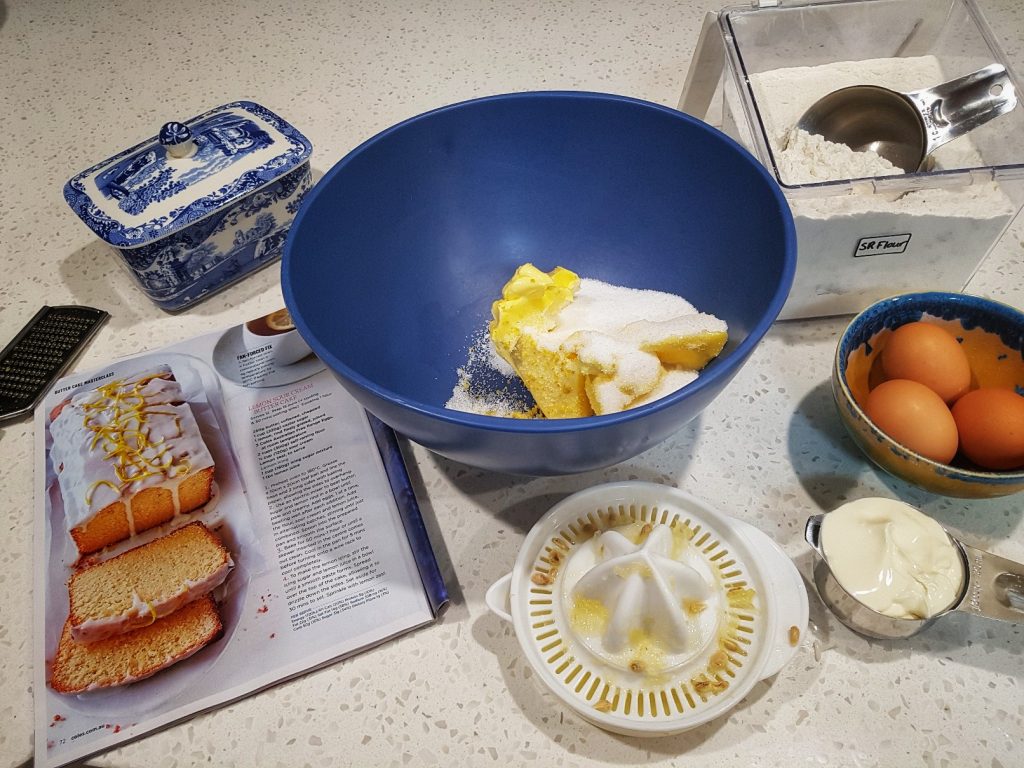 So I picked up my magazine last week and I had already had a quick flick through and noticed a couple of cakes that looked good!
On the day my mother in law was visiting I had a quick panic….. What to have for dinner that night!
Looked in the fridge and saw the sour cream that needed to be used
Saw the Coles magazine on the bench and quickly went through it again and then this cake jumped out – Lemon Sour Cream butter cake!
Yep I had all the ingredients on hand and it was an easy one bowl cake – even better!!
I love the way they style the photos and a lot of the time what I cook from the magazine looks kinda close to what they picture.
Icing the cake was also easy!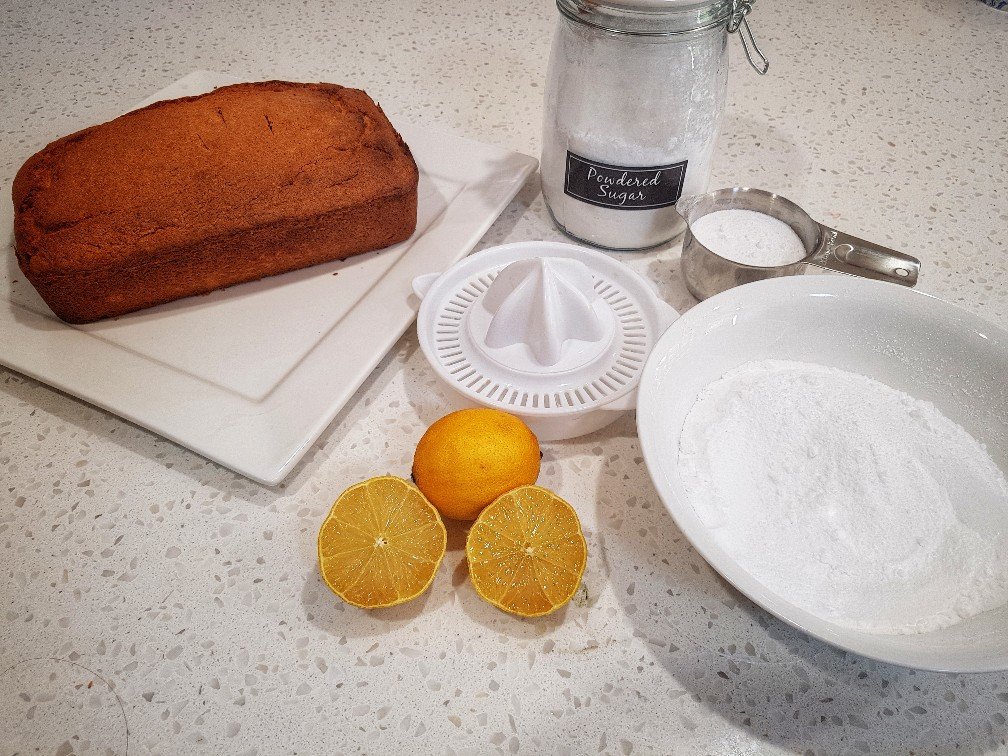 It called for a simple glaze of icing sugar ( powdered sugar) and lemon juice.
I actually had run out of icing sugar so I blitzed up a batch in my blender.
Regular sugar blitzed on the highest speed for 10 second or so – Will result in icing sugar.
If you blitz for a few seconds you can create castor ( superfine ) sugar
Saves having to to buy lots of different kinds of sugar when you can make your own as you need it.
And voila…The finished cake and you can see I kinda got it looking close!!
I was a little disappointed that the lemons I had on hand did not have a thicker skin so I could not zest them the way the magazine had them.
I actually have an amazing zester which does create the long threads…But these lemons were on their last legs ( Another reason why this cake was perfect to bake)
This is a link to the type of zester that gets those beautiful long pieces of zest and even better you don't risk and skin injuries like you do with the mircoplane style zesters
And you noticed that we used our set of measuring cups and spoons for measuring all the ingredients
You can see our set here on Amazon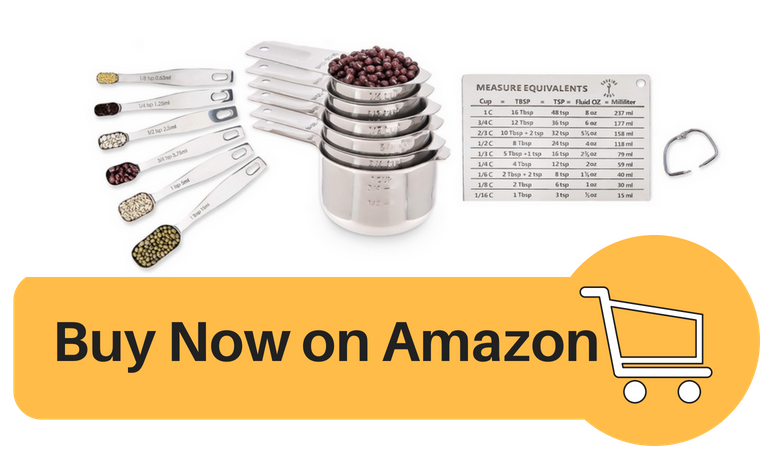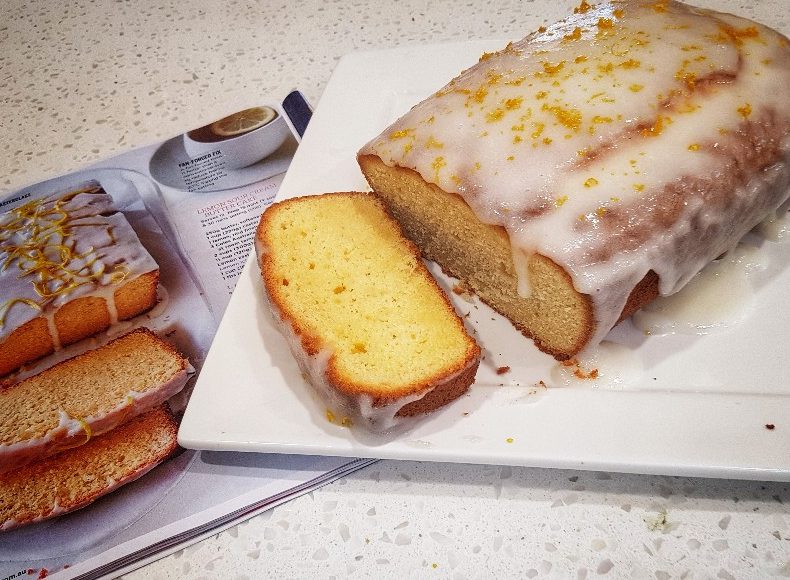 Lemon Sour Cream Butter Cake
Ingredients
Ingredients

250

g

butter

softened, chopped

1

cup

220g caster sugar

1

lemon

rind finely grated, juiced

3

Free Range Eggs

at room temperature

2

cups

300g self-raising flour

1/2

cup

120g sour cream

Lemon zest

to serve

Lemon icing

1

cup

160g icing sugar mixture

1

tablespoon

lemon juice
Instructions
Select all ingredients

Method

Step 1

Preheat oven to 180C. Grease a 10cm x 20cm loaf pan and line the base and 2 long sides with baking paper, allowing the sides to overhang.

Step 2

Use an electric mixer to beat butter, sugar and lemon rind in a bowl until pale and creamy. Add eggs, 1 at a time, beating well after each addition. Add the flour, sour cream and lemon juice, in alternating batches, stirring until just combined. Spoon into the prepared pan and smooth the surface.

Step 3

Bake for 50 mins-1 hour or until a skewer inserted in the centre comes out clean. Cool in the pan for 5 mins before turning onto a wire rack to cool completely.

Step 4

To make the lemon icing, stir the icing sugar and lemon juice in a bowl until a smooth paste forms. Spread over the top of the cake, allowing it to drizzle down the sides. Set aside for 30 mins to set. Sprinkle with lemon zest.
Cooking Gods is a participant in the Amazon Services LLC Associates Program, an affiliate advertising program designed to provide a means for sites to earn advertising fees by advertising and linking to www.amazon.com