When I am cooking – I like to "Go with the Flow" When your kitchen layout is out of whack, "The Flow" is non existent. The placement of each item in your kitchen will determine how easy it is to cook food and get your meals served. Once a kitchen becomes disorganized, it is difficult to work in a rhythm. When your tools, equipment and ingredients are not set out in a pattern that suits you and the actual kitchen space – Things just don't FLOW
Here's how you can organize your kitchen like a Goddess to make mealtimes a breeze.
Create an Efficient Workflow
The workflow of your kitchen will determine how easy it is to get around to find the right tools and ingredients as you cook.
Keep pathways clear by placing appliances in different areas of the room instead of across from one another. A well-designed kitchen will have a triangle work zone linking the sink, stove, fridge and meal prep area. Reorganizing cupboards and draws can be an easy fix to create a better flow. Two easy tips are to store cups and glassware near the refrigerator where your family members or guests get drinks.
Place spices and oils near the stovetop where you're cooking. You can easily reach them and more importantly, put them back to where they belong. I Wrote this great blog post about how to Organize your spices and had two Organization geniuses give their tips. Read it HERE
Use Your Current Storage Spaces to The Maximum Potential
There are many different storage solutions to utilize to create a functional space that is organized. Make the most of your pantry and cabinets where you store items that are used each day.
Cull the utensils or crockery that you just don't use or that are damaged. Some kitchen items should be trashed if they are no longer food safe. Splits and cracks can harbor bacteria. Items that you only use occasionally or once a year – Can you store it elsewhere?
If your pantry gives you nightmares with how it looks or it is set out. I have a great pantry organization post and checklists to get your pantry and fridge working to how you need it. Read the post HERE and get your downloads.
Use lazy Susans to hold spices and ingredients to prevent them from becoming lost in the back of cabinets. For snacks or miscellaneous items, use boxes or containers to hold everything and keep the pantry from looking cluttered. Labeled jars also create a clean design that is aesthetically pleasing and makes everything look uniform (see our AMAZING label set at the end of this article). Pot hangers also make it easy to utilize vertical space and put essential tools within reach.
Countertops and Pantry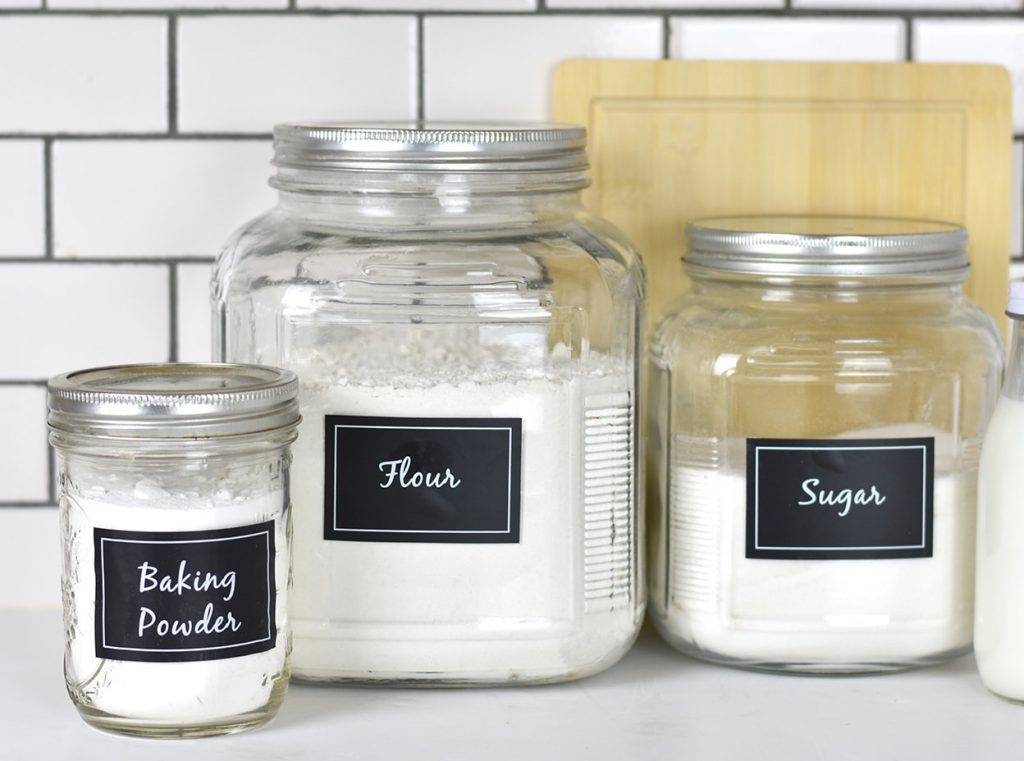 Replacing a countertop is absolutely possible and they can be custom cut to fit your existing kitchen. My biggest struggle was keeping my countertops clear. The countertop was a magnet for every mobile phone and device that needed to be recharged. I finally solved that problem by setting up an area on a little-used buffet near our meals area. All devices are easily reached, and I set up a power board so there were enough power outlets for the entire family.
I do like to store items I use all the time on the countertop – I keep my cooking utensils next to my stovetop. I bought a beautiful ceramic canister to store my tongs, flippers, and spatulas in.
I also love to have some of my canisters on the countertop. My canisters are a mishmash – but they are all tied together with our label set (We sell a set on Amazon – see the end of this article for a photo and link to them).
You can have simple mason jars with beautiful labels or you can splash out and get ceramic canisters.
Is your pantry on display? ( Butler style pantries are becoming more and more popular)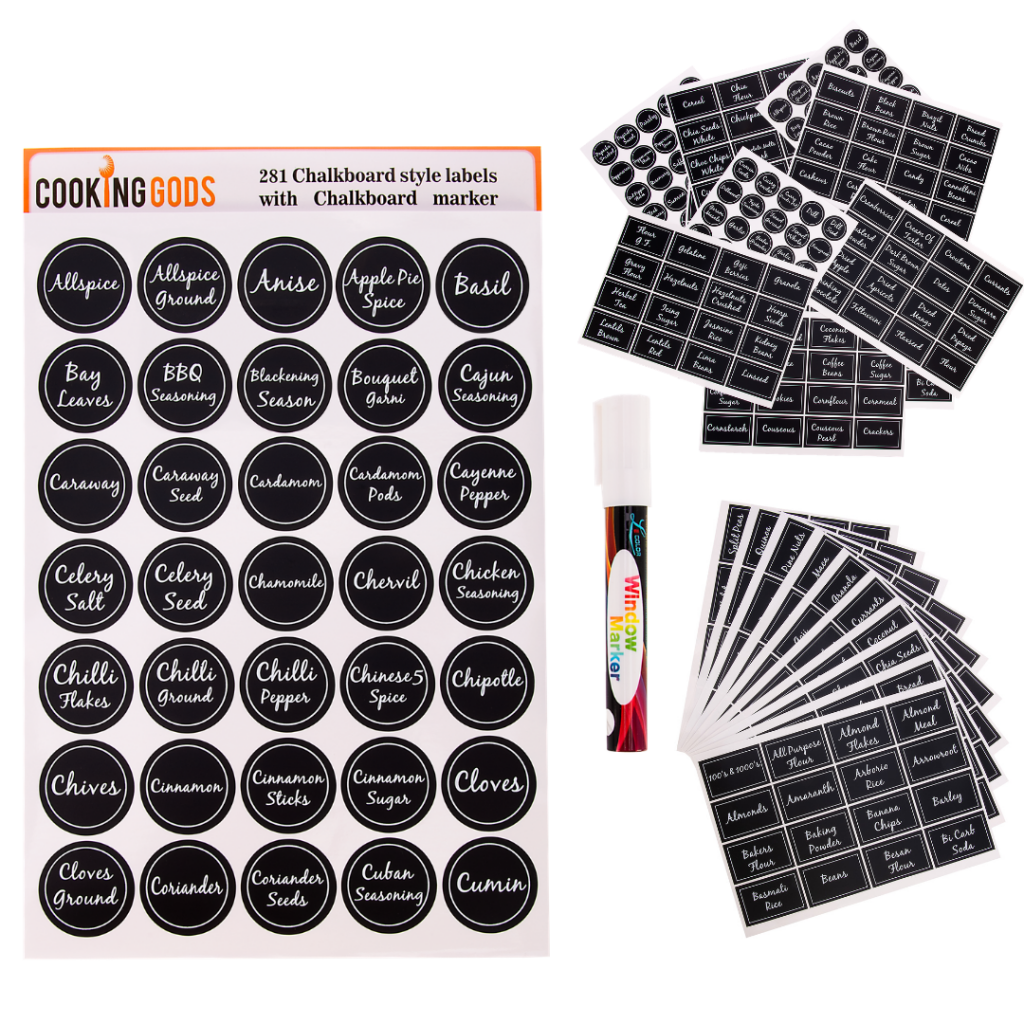 Make your pantry breathtaking with a simple revamp of storage jars or containers by bringing them all together with a beautiful set of pantry labels. I have you covered here – I designed a beautiful set that will make your kitchen look like a Pinterest photo!!
To grab your set AND get a sweet 10% discount
Click the button below and it will take you straight to Amazon – No email address required
Make it Beautiful
Not only should the space be organized, but it should also be aesthetically pleasing. Consider painting the island with a bold color that creates a high level of contrast with the surrounding cabinets. Installing new handles is an instant fix and gives the kitchen an upscale look.
New tapware will bring back the gleam at the sink and new higher faucet designs make it easier to use your sink when washing or doing food prep.
If the cabinets doors are outdated, consider installing new doors onto the existing cupboards — it will transform the look of the room without a major renovation.
Can you change the splashback? Options can be as easy as tiling over existing tiles. It will enhance the feel of the kitchen and can be a real statement piece.
White subway tiles are minimal and sleek for those who want to create a light and airy environment. Herringbone tiles are contemporary and add an upscale look that is slightly rustic. Those who want to create a luxe kitchen can install metallic or glass tiles.
Organizing your kitchen is an excellent way to create an efficient and functional setting where you can get your cooking mojo back and actually enjoy working in the kitchen.