Bridal Shower Gift Ideas Guide
Was in order because I was recently was invited to a Bridal Shower and I was super excited for the invitation.
I love going to day time events, being able to sit with other women ,enjoy the food, the conversation and get a little bit silly too – Bridal Shower games are fun!!!
It was only a small time affair which did make it an easier process to liaise with the other invited guests to make sure that we did not double up on gifts!
We worked out that the bride really needed most of basics in the kitchen as the couple had spent a bit of time traveling. Before they left on their year long travel adventure they had sold off or given away many of their items so they were almost starting out new.
They were keen to get saving to buy their first home so they were eager to get good quality items that they could start to use now but would also suit the home that they were planning for
The bride to be did enjoy cooking – I was so glad to know that what was bought for them would be used and enjoyed. How many times have we bought for people unsure if the gifts were even going to be used or appreciated. I know we shouldn't think that way…But how many times have we ourselves received gifts that just don't resonate with us.
Thankfully the bride's mom is a practical and organized lady and she was able to put together a decent list of present ideas that were wanted by the couple and suited all the budgets of the guests. She also knew what colours and styles they wanted.
The gift suggestion list is as follows
Recipe books
Baking tools – I was considering this – But is was snapped up by her future sister inlaw.
Pantry organization – The local Tupperware lady was rubbing her hands together in Glee…The Tupperware modular range for pantry organization always gets me drooling and several ladies teamed together to fund the pantry makeover!
Everyday cutlery
Everyday glassware
Tea and coffee items
Kitchen cleaning items – I hate cleaning so I was always going to avoid this one even though it was an easy bundle to put together!
Kitchen gadgets – I quickly snagged this one!! I still have most of the gadgets bought for me 18 years ago at my kitchen tea as I asked for good quality stainless steel utensils as a gift.
The more expensive and larger items like saucepans, and appliances would be added to the wedding registry
I went home and quickly made a list of the gadgets that I use on a regular basis.
Some of them get used nearly every day and some only get used once a month…But without it I would be lost. It also does come down to what I am cooking during different seasons.
When it is hot – I tend to only make dressing and sauces to put over salads and grilled meats
What gets used the most in Summer are my cups and spoons and tongs
When it is cooler weather, I will make hot meals and all my utensils do get a workout as I want to cook from scratch and bake!
I bought my list of items and assembled it together
I did have a quick look at some of the beautiful ways that shower gifts can be assembled but I think I did OK. The Pyrex jug added a bit of bulk so I decided just to place everything in the jug.
By unwrapping all the items means that what I bought will be used straight away.
I know that if I receive a heap of staff in packaging…It tends to stay in the packaging
It its is given to me ready to use…It goes to where it needs to go so I can use it straight away
Do you find this too?….I can have something sit on my bench for a couple of weeks still boxed up even though it is something that I have wanted for awhile.
So what is in my gift?
I went with a red and stainless steel theme. Red was a color that the bride had requested.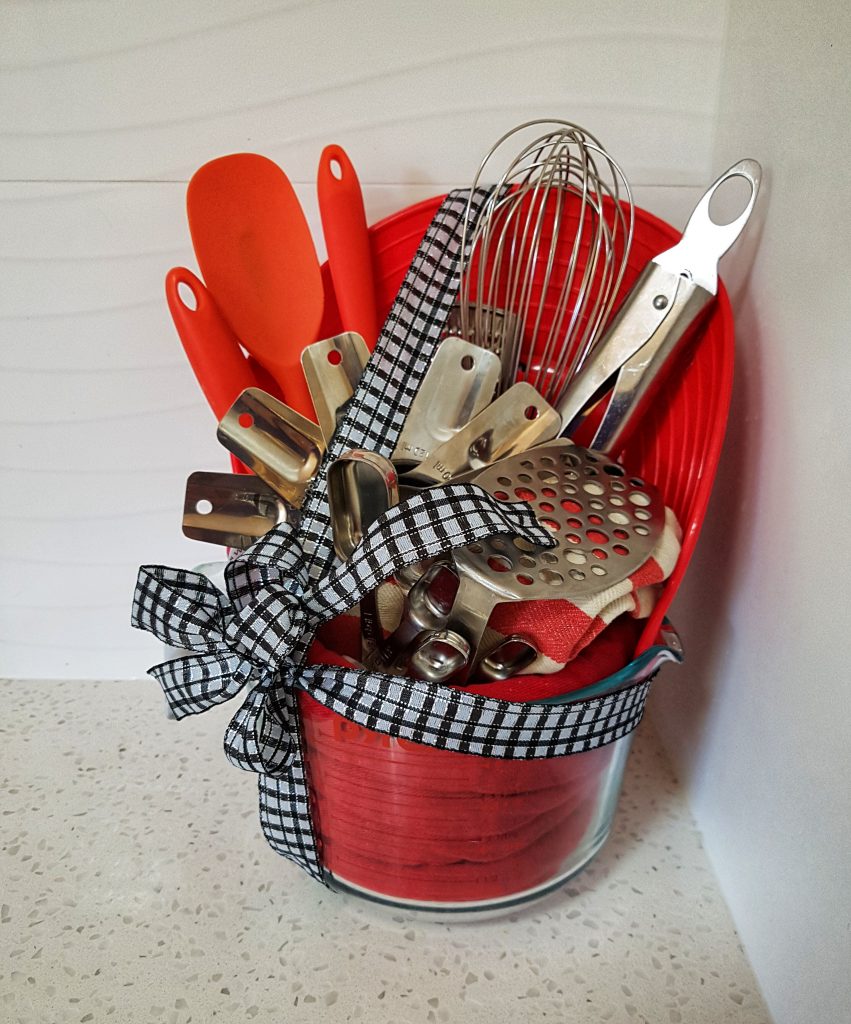 Some of the utensils I bought at my local home wares store and some I bought on  Amazon.
To make it easier I have linked directly to Amazon so that the ideas are accessible to everyone.
And this was carried through with most of the other items purchased…I love being give a color guide. I really like it when my surrounds have some main colors that stand out. I hate having mish mash of colors and prefer to stick to a couple of main colors .
In my kitchen it is stainless steel, red and I have added some lime green pieces on my bench top as well – cutting boards and a dish drainer.
So We have
Absorbent tea towels – I really love the red and white striped set I found on Amazon. They are cotton so they will absorb water well but also dry. I have had some linen ones in the past and they do not absorb as well as the good old cotton ones
A long oven mitt set – I use my oven mitts most days and having the extra length on the mitt ensures that I do not burn my forearms when reaching into the oven. Nothing worse than getting a burn when handling a hot tray or pot.

A Pyrex jug – Cannot live without mine! Because it is glass it goes into the microwave and into the dishwasher. I use the jug for making custard or sauces in the microwave and also when I need to measure large quantities of liquid. I especially love it when making risotto as I can warm the stock up in the microwave and then tip into my pot a bit of liquid at a time.
A set of good quality silicon spatulas and mixing spoon – I avoid in some of the utensils I use. I don't like using silicone that touches food and gets too hot – Like silicone baking mats or cake pans. I do love silicone when it comes to spoons and spatulas tough!! This set of 3 handles all mixing requirements!
A potato masher – This is a super sturdy and brilliant masher– I have gone through 4 mashers till I found this style.
I did buy this at a local home ware store but found the exact same style on Amazon.
Silicone boil over lid – I have gotten rid of all my saucepan lids! This cover has saved me more times than I can count. No more boiled over pots and so much more space in my pot drawer. I have left a 5 star review on this listing…Love love love this item
A strong whisk – I have thrown all my flimsy whisks out and the same with whisks with a silicone layer over them. If the silicone layer gets a split in it as it is no longer food safe as anything can get caught up under the silicone. I bought a very pricey silicone covered whisk but within weeks it had a split in it and it hurt to throw it away so now I will not try them again. My sturdy stainless steel one has been going for 18 years!!
Decent tongs – Again I have gone through many cheaper sets and some have even cut me when washing up with sharp edges where they have folded the steel over and food getting caught. This set does not have the edges or the area where food can get caught. They also have a nice lockable style and do not spring open when not in use.
A small hand grater –  Perfect for zesting – Lemon and orange zest are often in my cooking. And this grater is also perfect for hard cheese, chocolate, ginger and of course lime zest.
And of course the best set of measuring cups and spoons – I know I will always sing the praises of what I sell…But seriously I love this set and it took a lot of research to find the set
Check out the post that I wrote about searching for them – Read here