Lemon Pepper is so versatile.
Lemon pepper is a spice blend that may not make sense at first but it`s spicy, citric, acid and the notes can be a little confusing at first. However, more you have of it, more you start to feel all the characteristics of lemon pepper. It brings freshness to food, it is great for summer recipes, but also for winter, spring and autumn classic dishes. Lemon pepper is like a secret spell that you own, ready to be used at any time that you desire to surprise.
Commercial or store bought Lemon Pepper blends often do not contain real lemon peel and will use artificial flavours. By making your own you are creating a healthier alternative
If you are new to seasoning food or want to know more about it download our spice eBook
Get our Spice eBook BELOW to get full instructions on how to use this easy spice blend!
Inside is a recipe for a delicious Pasta dish.

PLUS get 5 other spice blend recipes and instructions
BBQ
Mexican
Indian Curry
Cajun
Cuban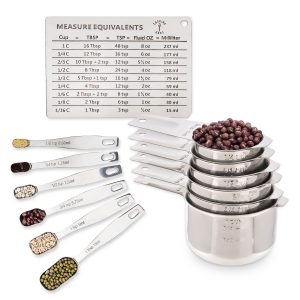 Also included in the Ebook :
An amazing discount code to buy our Stainless steel measuring Cups and Spoons – This will ensure accuracy when making your spice mix
The lemon pepper spice origins are not clear.
Lemons and the black peppercorn originated in India. It is not unreasonable to think that they were first combined and used as a seasoning blend there. Both lemon zest and black pepper are used in a number of Indian dishes
It also makes sense that it became more wide spread after the periods of great spice exchange in the world. With the oceanic expeditions and the start of globalization, people started to experiment and mix different varieties of spices, creating new and unusual spice blends.
So probably, lemon pepper came out during this boom period. While companies were looking for new labels to sell different spice blends and people were looking for new flavors to season food at home. Then lemon pepper comes as a versatile and fresh spice, with a strong presence and very citric profile.
Lemon pepper has long been used as a flavoring for fish and seafood.
It can be sprinkled onto fish before grilling. It is amazing when used on salmon!
Or it can be added to butter for lobster or other seafood.
It is also popular for use on pasta and on chicken wings.
Lemon pepper wings have become a staple in the southern United States, especially in the city of Atlanta.
Lemon Pepper Seasoning
Ingredients
¼

cup

black pepper powder

2

tablespoons

dried lemon zest

see recipe notes

1

tablespoon

dried onion

1

tablespoon

dried thyme

1

teaspoon

coriander powder

1

tablespoon

chili pepper flakes

3

tablespoons

dried parsley
Instructions
Mix all elements together. You may need to use a grinder to distribute the lemon peel through the spice mix

Store in a spice jar
Recipe Notes
Note: Dried lemon zest is also called dried lemon peel. Some stores sell it online, but you can also prepare it at home. To prepare it, remove zest from one lemon (not using the white part), then let zest dry naturally for 2 days, on a plate. You can also preheat the oven to the lowest temperature possible, place zest on a non-sticking baking pan and bake to dry it out (5 minutes or less might be enough). There Is also a third option, if you are in a rush, you can use regular lemon zest, however, your spice will only keep for several days if using the zest fresh.
For Accurate Measurements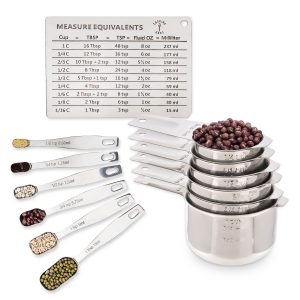 Consider buying Cooking Gods Stainless Steel Measuring Cups and Spoons. A link to the set with a sweet discount is included in the Ebook listed above.

How to store your blends
Keep away from heat, moisture, and direct sunlight. Avoid storing over the stove, dishwasher, sink or near a window. These elements will reduce flavour intensity and can also introduce moisture to your blend storage containers.
Always close spice containers tightly after each use.
How to Optimize Freshness
Spices and herbs that are whole, will maintain their freshness longer than those that are ground.
Spices and herbs do not spoil as such but they do lose their strength. Old and weak seasonings will not deliver the taste they should.
Spices and herbs will keep for a long time if they are stored in airtight bottles. The shelf life of properly stored spices and herbs is approximately 4 years for whole spices, 2-3 years for ground spices and 1-3 years for leafy herbs or when using dried peel.
To see if your spices and herbs are still fresh – Check the look, smell and taste. A visual check for color fading is a good indicator of flavour loss. Taste and smell your spices and herbs; if a fresh odor or taste is not apparent, they need to be replaced.
Do not sprinkle spices and herbs directly from the bottle over steam. Steam introduced into the bottle will hasten the loss of flavour and aroma. Steam will also result in the spices clumping together.
Make sure your measuring spoon is completely dry when you dip it into the bottle. Moisture introduced into the bottle will also result in caking and flavour loss.