Cajun is an interesting spice blend with some contrasting but harmonic notes.
Cajun seasonings consist of a blend of salt with a variety of spices, most common being cayenne pepper and garlic. The spicy heat comes from the cayenne pepper, while other flavors come from bell pepper, paprika, green onions, parsley and more
It is a mind-blowing combination! Using the right proportions of Cajun spice will enhance
the food with the best quality. Many recipes already come with a suggestion of the
right amount, some let you implement your cooking ideas with more freedom.
Get our Spice eBook BELOW to get full instructions on how to use this easy spice blend!
PLUS get 5 other spice blend recipes and instructions
BBQ
Mexican
Lemon Pepper
Cuban
Indian Curry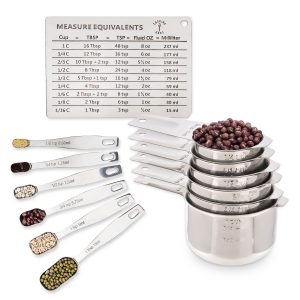 Also included in the Ebook :
An amazing discount code to buy our Stainless steel measuring Cups and Spoons – This will ensure accuracy when making your spice mix
Story
When we talk about Cajun, many people might associate it with finer dining and … That`s not totally wrong, however, the origins of Cajun come from very poor and difficult times when the Arcadian's (French descent) were moved by the British from Canada and they settled Louisiana. Due to the extremes in climate change the ingredients and foods that they use to prepare had to change to suit the local climate and availability of ingredients.
Cajun style cooking is usually made up of 3 components, Rice, vegetables and meat.
The most commonly used vegetables are onions, green bell peppers, celery, okra, sweet potatoes, collard greens and tomatoes
Many different meats are used – from typical meats like pork and beef to more unusual local game like alligator.
Seafood is also widely used from freshwater fish like catfish to saltwater offerings like snapper, oysters and blue crab and shrimp.
You can see African, French and American touches in modern Cajun cuisine. And you can use this spice blend for many other adaptions and recipes, as it has been popularized since its invention. As the goal was to use any food available to cook and eat so Cajun spice blend is pretty versatile and enjoyable. It goes well with chicken, meat and of course seafood!
A secret from Louisiana tradition that became culinary history.
Every time that you cook with this easy spice blend, you can feel all the inspiration behind the aromas and flavors!
Cajun Spice Blend
Ingredients
6

tablespoons

Smoked paprika

¼

cup

kosher salt

2

tablespoons

Ground black pepper

2

tablespoons

Ground white pepper

2

tablespoons

Garlic powder

2

tablespoons

Onion powder

1

tablespoon

Dried Thyme

1

tablespoon

Cayenne pepper

1

teaspoon

Dried oregano
Instructions
Mix all elements together and use as desired to season food

Store in a spice jar
For Accurate measurements
Consider buying Cooking Gods Stainless Steel Measuring Cups and Spoons
A link to the set with a sweet discount is included in the Ebook listed above.

How to store your blends
Keep away from heat, moisture, and direct sunlight.  Avoid storing over the stove, dishwasher, sink or near a window. These elements will reduce flavour intensity and can also introduce moisture to your blend storage containers.
Always close spice containers tightly after each use.
How to Optimize Freshness
Spices and herbs that are whole, will maintain their freshness longer than those that are ground.
Spices and herbs do not spoil as such but they do lose their strength. Old and weak seasonings will not deliver the taste they should.
Spices and herbs will keep for a long time if they are stored in airtight bottles.  The shelf life of properly stored spices and herbs is approximately 4 years for whole spices, 2-3 years for ground spices and 1-3 years for leafy herbs or when using dried peel.
To see if your spices and herbs are still fresh – Check the look, smell and taste.  A visual check for color fading is a good indicator of flavour loss.  Taste and smell your spices and herbs; if a fresh odor or taste is not apparent, they need to be replaced.
Do not sprinkle spices and herbs directly from the bottle over steam.  Steam introduced into the bottle will hasten the loss of flavour and aroma.  Steam will also result in the spices clumping together.
Make sure your measuring spoon is completely dry when you dip it into the bottle. Moisture introduced into the bottle will also result in caking and flavour loss.