Gift ideas for a baker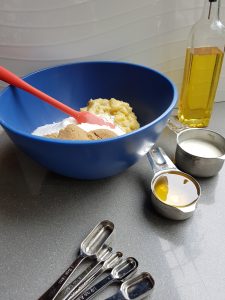 I can  still remember the thrill of my Gran giving me her favorite mixing bowl and her Pyrex jug
And 20 years later I am still using them!!
Don't you love the idea of giving a gift that will be used time and time again evoke so many memories and also last generations?
I have treasured baking tools that I reach for constantly and they still stand up to the test of time.
Many tools I have bought over the years have not lasted the distance.
They either broke, discolored or I realized they were not food safe  ( Remember Teflon!)
I have put together a list of favorite baking tools that will last the distance for many years and the pictures are links to Amazon so you can select straight away
Cooking Gods is a participant in the Amazon Services LLC Associates Program, an affiliate advertising program designed to provide a means for sites to earn advertising fees by advertising and linking to www.amazon.com
Mixer
The first thing a keen baker will reach for is a mixer.
There are different things to consider – Do they already have a mixer?
What sort of bench space and storage room do they have and what do they like to bake?
The Queen of all mixers is a Kitchen Maid and it is what many bakers aspire to own.
It is a bench top Mixer so it needs to have easily accessible storage or room on a bench top for it to be used
If your baker is just starting out or only has a small kitchen a hand mixer may do the trick as a starting point. Hand mixers are also great for doing easy mix recipes.
Mixing Bowls
One of the first things a baker will reach for!! The mixing bowl will either be a part of a Mixer as mentioned above or a mixing bowl can be whatever is preferred. I like using an assortment of mixing bowls, plastic, metal and Ceramic bowls. Plastic bowls are lightweight and easier for children to use and they don't put extra pressure on hands and wrists using and carrying the bowls.
Metal or stainless steel bowls are fantastic and will last the distance…BUT they are not suitable to microwave in and for some recipes a quick blast in the microwave is needed – Like when softening butter or chocolate.
Ceramic/Glass – now these will also last many years and they can be used in the microwave and another thing I love about them is that they can also be used as serving bowls. I often will make a salad or side dish of vegetables in a ceramic bowl and use it on the table
Multi use is what I am all about!
Measuring Cups and Spoons
The right set is invaluable!
They provide accuracy and are used in all recipe books and are universal in measurements
Make sure you get a set that has metric measures on them as well
Do not buy a cheap flimsy set – they will break and the measurements are likely to wear off.
Buy a stainless steel set as the measurements will be stamped on, they are food safe, they are suitable for the dishwasher as well.
And check that the spoons are rectangular in shape! Round spoons are useless when you use a lot of spices as you cannot fit the spoons into the spice jars!
This video will show you the difference in a round spoon and a rectangular spoon.
Get a 10% discount on this set today!!
Limited coupons available – Click on the image below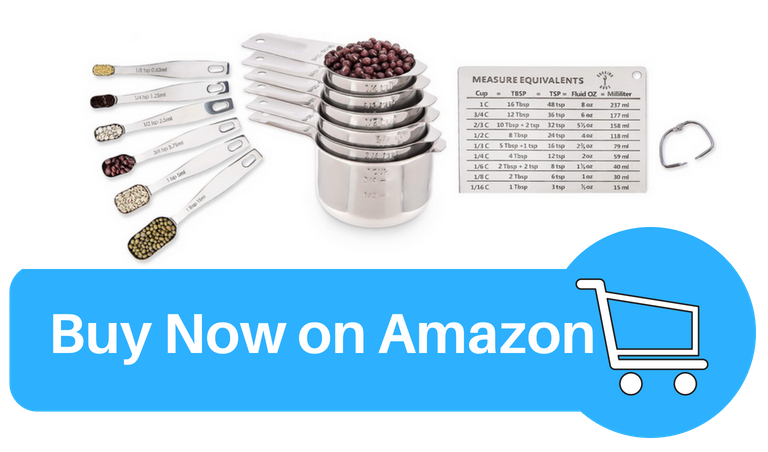 Spoons and Spatulas
These are often interchangeable!
I must admit I did love using a wooden spoon but over the years the wooden spoons have not lasted the distance. Mainly because over time they are no longer food safe ( wood will absorb food and bacteria if you are using it for wet ingredients) They also do not cope well with the dishwasher and let's face it…I throw everything I can into the dishwasher
Look for spoons or spatulas that are made from GOOD quality silicone.
Do not buy a low quality one as they will discolor and become sticky.
The couple that I have bought are coming up to 15 years and they are still good as when I bought them.

Whisk
Again another tool that I use a lot! I have 2 sizes – one for smaller amounts – like a couple of eggs into a cup of milk and then I have a larger size that I use while heating and stirring over a pot ( Yes I still enjoy standing and watching a sauce come together!)
I did buy a silicone coated whisk – but what I found is that the silicone came away and split and I was left with gaps and holes and this is no longer a food safe utensil – There was no way of knowing what was caught under the silicone. Look for stainless steel whisks with a solid handle. Nothing worse than a poorly made handle making the whole utensil useless.
Scales
I remember my mum buying me a set of scales and they are still going strong 18 years later!
I love that they can reset back to zero so I can leave a bowl on the scales and weigh ingredients as I go
Make sure that the scales give you enough time to read it before it turns its self-off…So infuriating when you step away to grab something to add into the bowl and the scales have turned off and you are left trying to work out the weight of what you need to still add
Ensure that they have a nice sized top so you can balance larger bowls or plates on them ( I weight everything including parcels that need to be posted)
Cake and Pie tins

I cannot live without cake tins that are easy to get a cake out of the tin!!
The cheesecake style tins are my favorite – BUT watch that that they will leak if you have extremely runny batter or the cakes produce a lot of liquid like some of the fruit based cakes that have a caramel style top – eg pineapple upside down cake…The caramel will ooze out of the tin
A good sized Loaf pan is also needed – I do breads, loaves ( Including meatloaf) and I will also use them to set terrines
Trays,Pans and Racks

There are different sorts and they are all used.  Different trays to consider are flat or sheet trays tray, cupcake or muffin trays, slice or brownie trays and some very cool donut trays that are a newish item to buy!
The flat trays are used for cookies and also you put your cake tins on to them before putting them into the oven.
There are different surface types and you can choose a non stick surface ( Take care that they are treated carefully so they do not scratch) or a regular surface that does not scratch and you can give it a scrub to clean but you will have to oil or line the tray with parchment paper to stop food sticking .
Racks are essential for allowing food to cool and it stops hot trays or pans being put onto a bench top. As high heat can stain or damage a bench surface

Measuring jugs
Hello Pyrex Jug!!
I think majority of kitchens would have a Pryex jug and they are still in the best seller lists on Amazon in the kitchen and dining section.
I have 3 sizes – small, medium and large and I use them to pour, measure, mix and also to make béchamel sauce in the microwave…….Yes I know I said earlier I like to stand and stir a sauce but sometimes I don't have time or I need to make a double batch and that is where the microwave does come into play.
Other jugs are plastic style – Just be aware that they can scuff over time but they are light weight and easy to work with.
Sieve and Sifter
A Sieve is always needed. They can be used for straining liquid ( Sometimes they are called strainers), Separating lumps and particles out of sauces and liquids and also lumps out of dry ingredients and of course they can be used to aerate flour and help to mix dry ingredients together when they are sieved together into a mixing bowl.Sieves are fine to be put through a dishwasher if you are using wet ingredients though them
Get a stainless steel one that is wide enough to sit easily over mixing bowls or saucepans, Also ensure that the mesh is strong so that you can push thicker sauces through it or crush dry ingredients through the mesh. And the mesh needs to be fine so that bigger particles do not get through into your food.
Another alternative for use with dry ingredients is a sifter.
With a sieve you need to shake and tap dry ingredients though the mesh .
A sifter uses some sort of crank to mechanically push dry ingredients through the fine mesh. The crank will either be a handle on the side or it will be a crank that is part of the handle. Both work as well as the other and it comes down to preference.
Some sifters will have 2 mesh layers to ensure no large particles get though. Sifters are invaluable when using dry ingredients like powdered sugar or baking soda – these type of ingredients naturally clump and you do not want clumps of them in your cooking. The sifter also acts as a way to mix dry ingredients and if you get a larger ones ( Buy one that holds at least 2 cups)you will add your dry ingredients and spices into the sifter and then sift them all together into the mixing bowl. A metal sifter is not suitable to go into the dishwasher as you use dry ingredients just shaking the sifter at the end of using it is enough to clean it.
Decorating tools
There are so many cool new decorating tools
What sort of things does your baker like to make?
If they do cookies  – the new rolling pins with patterns on them are a fun way to jazz up a simple cookie
Cookies cutters and cookie decoration kits are also lots of fun.
Do they bake cakes or cupcakes – Russian icing tips help create all those beautiful style flower decorations with buttercream
Or are they a pastry and pie baker – these pastry tools will bring some new ideas for their delicious masterpieces
Canisters
Have you sneaked a peek into their pantry?
Many bakers may already have the tools of the trade I have mentioned above…But what about the canisters they store their flours and sugars?
Look for canisters that have a wide enough mouth or opening so they can put in measuring cup.
Squared off shapes will allow better use of space ….But nothing looks more gorgeous than seeing rows of classic Mason style canisters.
Consider what their storage space is like and what sort of decor they like – eg Farmhouse or more modern and sleek
And if you are going to buy them canisters – a set of pantry labels will really set off their new pantry items.
Cooking Gods is a participant in the Amazon Services LLC Associates Program, an affiliate advertising program designed to provide a means for sites to earn advertising fees by advertising and linking to www.amazon.com