Cooking with preschoolers – That magical (most of the time) age group of 2-5 year olds.
I have broken this down into 3 age groups into a 3 part series.
You can find the guide for 6-9 year olds here
And 10 -13 years olds here
I have included suggested utensils for them to use and at the end is a selection of recipes that are age appropriate that you can try out with your children now.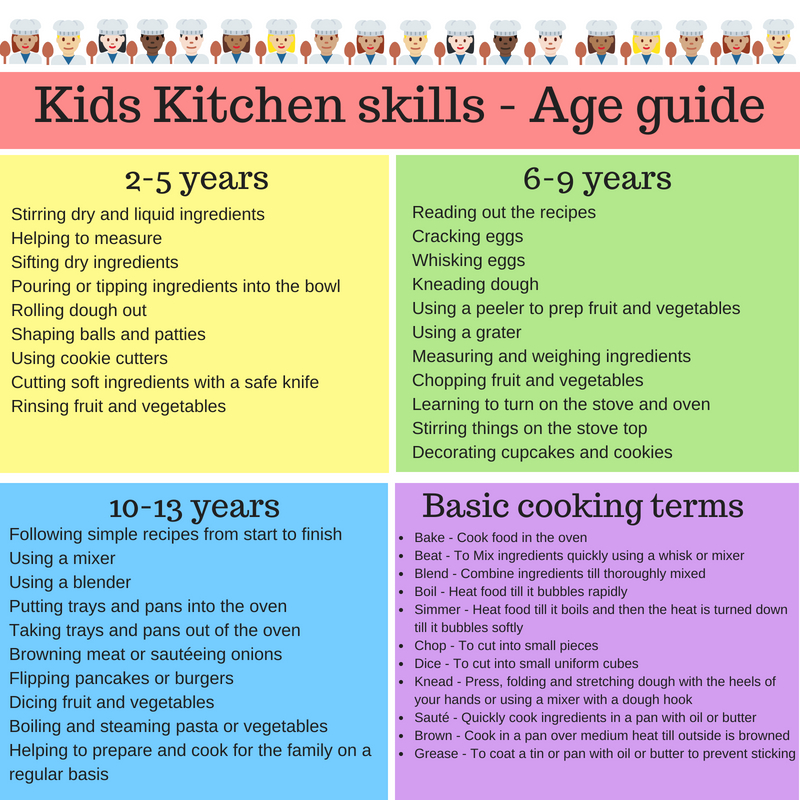 The younger years
Children between the ages of 2 and 5 are really wanting to be "helpful"
Argh – I know at this age I really tried to keep things as simple as possible when my boys wanted to 'help'
At this age there are some great things that they can do and feel useful and not create too much mess and drama while helping you in the kitchen!!
Let's look at what they can do and you should encourage them.
When we look at the kids of today, the lack of life skills is clearly missing with many kids in their teens and early 20's and many of the skills are simple ones like cooking, cleaning, social skills and time management.
Being able to prepare simple meals is a really valuable skill not just for while they are still living at home – but when they leave home too!!
These are the skills that 2 – 5 year olds can start to learn now
Stirring dry and liquid ingredients
Helping to measure
Sifting dry ingredients
Pouring or tipping ingredients into the bowl
Rolling dough out
Shaping balls and patties
Using cookie cutters
Cutting soft ingredients with a safe knife
Rinsing fruit and vegetables
Getting ready
First thing to work out – Are they going to be standing up on a step to help or will you go down to their level and use a lower table or the kitchen table?
If you are going to keep it in the kitchen then consider using a kid safe step.
On Amazon they have these great nifty steps that range from $11 to $120
Stirring dry and liquid ingredients
The main thing here is to make sure that the bowl or jug is non slip and easy for them to hold while they stir
These mixing bowls are well designed for children with handles and non slip bottoms.
You do not want bowls slipping off the bench top.
Or you can always use a suction cup to keep your current bowls safe on a bench
Measuring ingredients
Helping to measure out flour or sugar with measuring cups is fun and it also starts the basics to learning math.
Counting out how many cups or spoons and starting to understand volumes like half cups and full cups.
Cooking Gods set of measuring cups and spoons is perfect for this job – plus you will get quality utensils that will last a life time grab a set with the button below and get an EXTRA 10% off at checkout!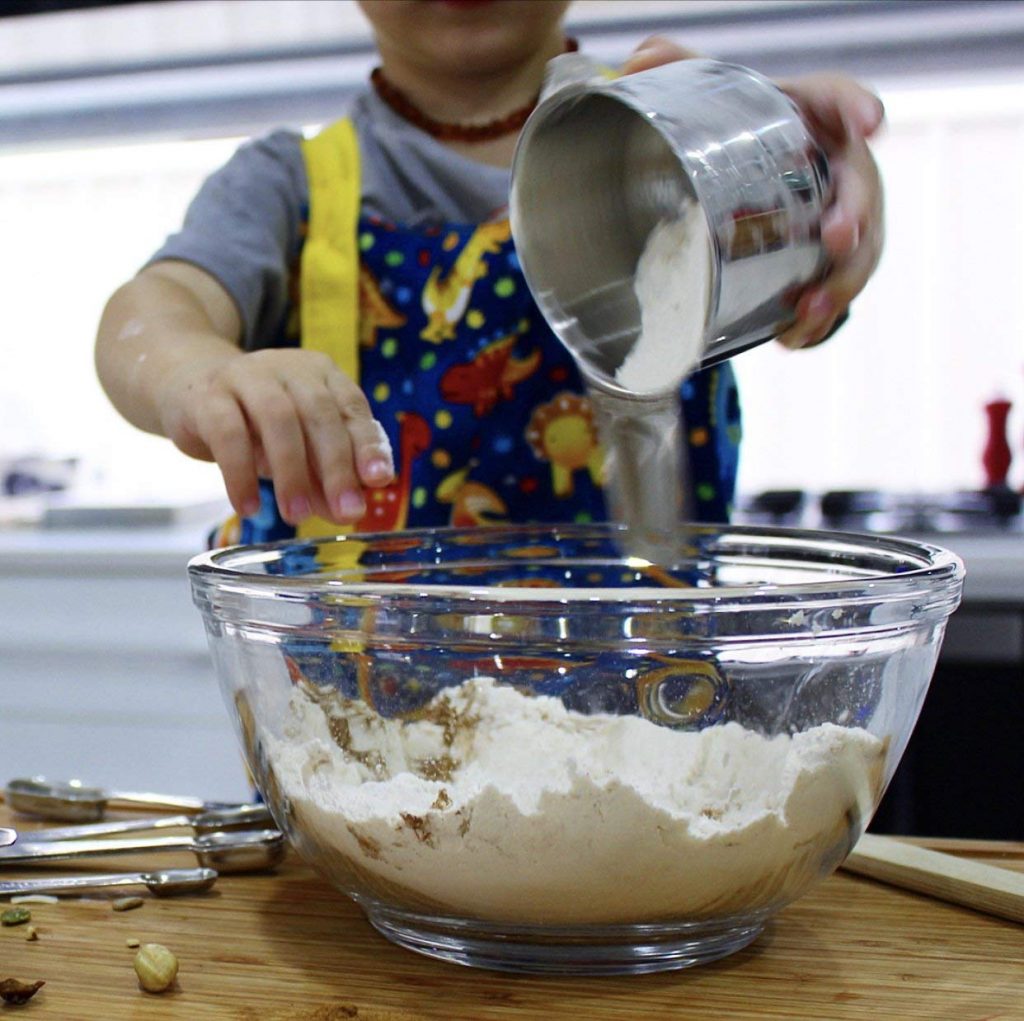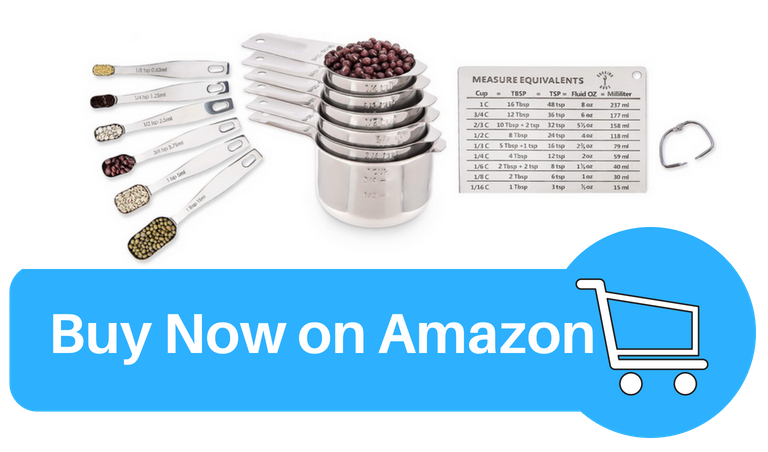 Sifting dry ingredients
Choose a sifter that you can put several cups of ingredients into but also easy for little hands to hold and manage.
This sifter is a smart choice as it has a top and bottom cover. The sifter can be filled up on the bench top and it is not going to let the dry ingredients go everywhere till you remove the bottom cover over the bowl!
Love a no mess utensil!
Rolling dough
You will need a rolling pin!!
Now this is something that I use to love helping to do and a good quality one will last years and years.
You can decide to get a full sized one that is easy for kids top use or to get a smaller one that is easier and lighter to use now.
There are some nifty new styles available today
This one is a full sized one that has adjustable heights so you can get exact dough widths.
These ones are all adjustable and easy to clean
And there are also kid sized rolling pins and of course they are suitable for play doh!
Using Cookie cutters
Again something I fondly remember pressing out shapes in dough!
There are some great shapes and also cookie stamps that make the cutest cookies ever!!
These plastic ones are not as sharp as a metal cutter but they are better for younger children
They can also be used to cut out shapes on slices of melon or other soft fruit and veggies.
And of course for Play Doh
These stamps are super cute and you can get Christmas themed ones as well.
They also work as a cookie cutter and stamp all in one. Very cute to pop into a lunchbox with a little message on it.
Cutting soft ingredients
Now I am the first to admit – knives make me nervous and I do not enjoy using super sharp chef style knives and I hate watching cooking shows where the chef is chopping at a million miles a minute….Eeek I have to close my eyes in case there is a knife and finger accident.
I use serrated knives and kitchen scissors to do most of my cutting.
This knife set is perfect for kids cutting up soft things like fruit or breads and cakes as it is an acrylic blade
If you are after a metal blade – these knives look good.
Word of warning they are sharp enough to cut a finger.
Don't use them on food like tomatoes or apples where a blunt knife will slip off.
They are great for chopping prepared fruit and vegetable pieces.
And if you are really concerned you can get knife protection gloves.
I have not used them. They do get good and bad reviews. I think they may help but they should not be relied up exclusively.
Here are 5 terrific recipes that is perfect for this age group
Recipe is by Whole Food Bellies
Great for breakfast!
Skills used
Rinsing fruit
Cutting up the berries
Layering all the ingredients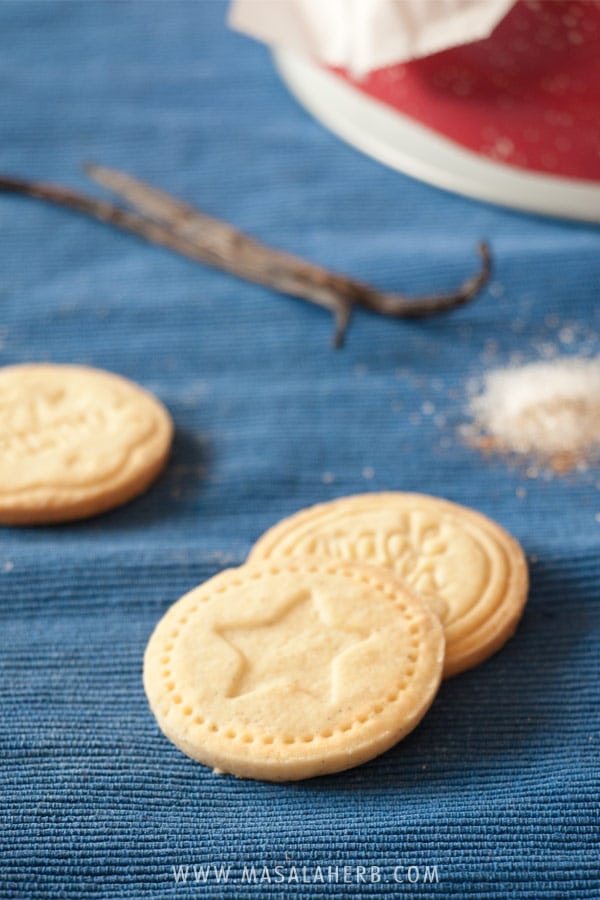 Recipe is by Masala Herb
These cookies have a great sweet spiced flavour and are the perfect consistency to roll and cut shapes
Skills used
Measuring Ingredients
Mixing the dough
Rolling Dough
Cookie Cutting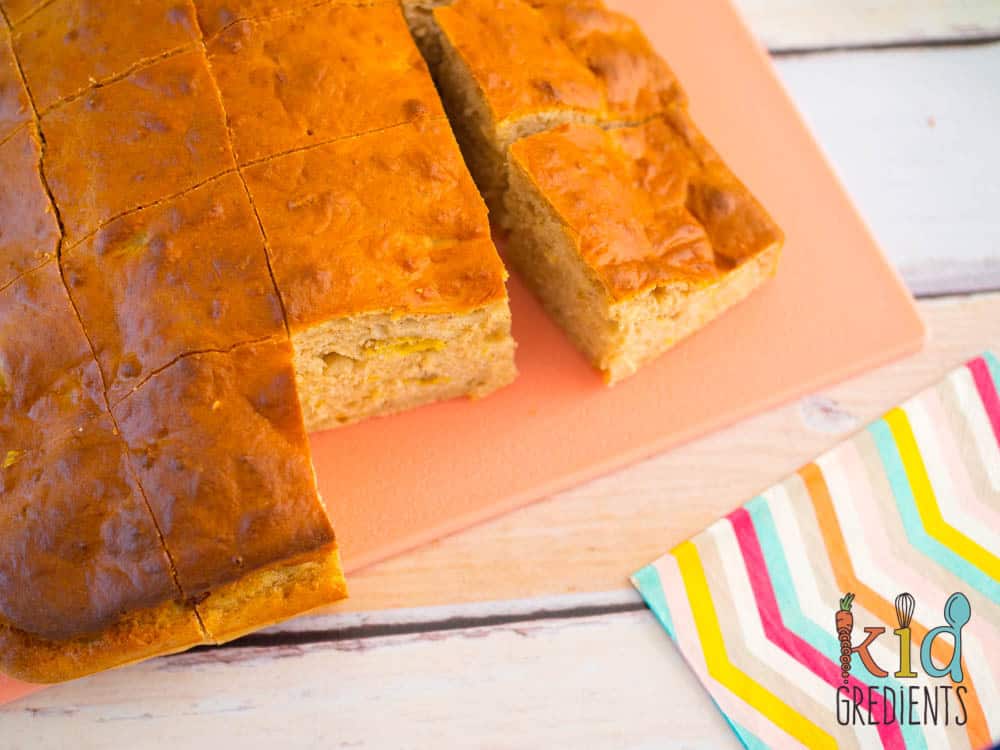 Recipe by Kidgredients
Easy Cake to make and will be a hit with young kids to make and serve up.
Skills used
Mushing bananas
Measuring ingredients
Mixing Ingredients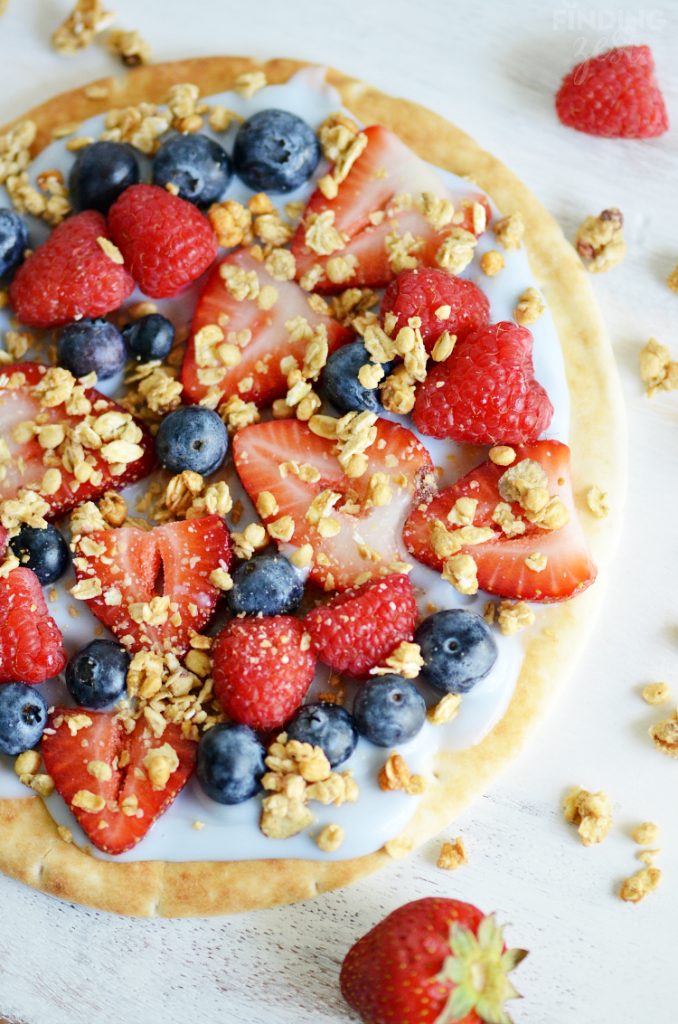 Yogurt Fruit Breakfast Pizza
Recipe by Finding Zest
Another delicious fruity creation that will appeal to all kids!
Skills used
Rinsing the berries
Chopping strawberries
Spreading the yogurt topping on the base
Sprinkling granola topping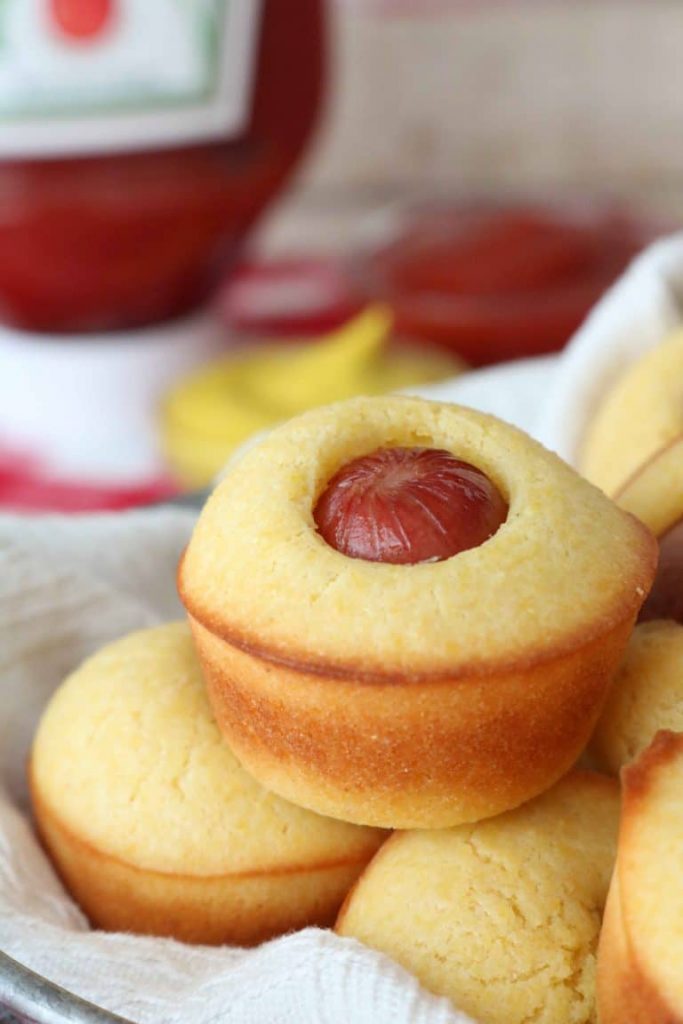 Recipe by The Anthony Kitchen
Lovely little savory snack!
Skills used
Chopping up hotdogs
Measuring ingredients
Stirring and mixing ingredients