Cuban spice blend is tangy, sweet and inspires curiosity.
It is moderately strong in spiciness and heavy spices. It is herbal and citrus all at once. It can be used to season traditional Cuban dishes, Cuban-style dishes and many other recipes as meat, fish, seafood, and poultry.
Get our Spice eBook BELOW to get full instructions on how to use this easy spice blend!
Inside is a recipe for a killer Cuban Sandwich!

PLUS get 5 other spice blend recipes and instructions
BBQ
Mexican
Lemon Pepper
Cajun
Indian Curry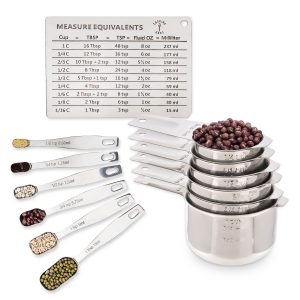 Also included in the Ebook :
An amazing discount code to buy our Stainless steel measuring Cups and Spoons – This will ensure accuracy when making your spice mix
Story
A single spice blend cannot translate all the culinary history of a country or a culture.
When people think of Cuba their thoughts will go straight to the thoughts of Cuban music, cigars and cocktails (Hello Daiquiris and Mojitos) . But Cuba also has some signature dishes like the Cuban sandwich.
People will fall in love with the spices and flavors of the food as they discover the flavor combinations that work so well together.
When talking about Cuban food – Cuba was a busy port during navigation times, so many different travelers  came in contact the Island and they in turn bought their different spices which influenced the food and  bought many cultural inspirations together to build the contemporary style of cooking.
It is a fusion of Spanish, Native American, African and Caribbean culinary.
Also being an island, seafood is a way of eating and thanks to the tropical climate region, there were a large variety of fruits and vegetables in Cuba, which contributed to the creation of many typical dishes.
Cuban Spice Blend
Ingredients
2

tablespoons

paprika

1

tablespoon

onion powder

1

tablespoon

garlic powder

1

tablespoon

dried oregano

1

tablespoon

cumin powder

1

tablespoon

cayenne pepper

1

tablespoon

ground black pepper

1

tablespoon

brown sugar

½

teaspoon

salt

1

teaspoon

dried orange peel

see recipe note
Instructions
Mix all elements together. You may need to use a grinder to distribute the orange peel through the spice mix

Store in a spice jars.
Recipe Notes
Note: Dried orange zest is also called dried orange peel. Some stores sell it online, but you can also prepare it at home. To prepare it, remove zest from one orange (not using the white part), then let zest dry naturally for 2 days, on a plate. You can also preheat the oven to the lowest temperature possible, place zest on a non-sticking baking pan and bake to dry it out (5 minutes or less might be enough). There Is also a third option, if you are in a rush, you can use regular orange zest, however, your spice will only keep for several days if using the zest fresh.
For Accurate measurements
Consider buying Cooking Gods Stainless Steel Measuring Cups and Spoons
A link to the set with a sweet discount is included in the Ebook listed above.

How to store your blends
Keep away from heat, moisture, and direct sunlight.  Avoid storing over the stove, dishwasher, sink or near a window. These elements will reduce flavour intensity and can also introduce moisture to your blend storage containers.
Always close spice containers tightly after each use.
How to Optimize Freshness
Spices and herbs that are whole, will maintain their freshness longer than those that are ground.
Spices and herbs do not spoil as such but they do lose their strength. Old and weak seasonings will not deliver the taste they should.
Spices and herbs will keep for a long time if they are stored in airtight bottles.  The shelf life of properly stored spices and herbs is approximately 4 years for whole spices, 2-3 years for ground spices and 1-3 years for leafy herbs or when using dried peel.
To see if your spices and herbs are still fresh – Check the look, smell and taste.  A visual check for color fading is a good indicator of flavour loss.  Taste and smell your spices and herbs; if a fresh odor or taste is not apparent, they need to be replaced.
Do not sprinkle spices and herbs directly from the bottle over steam.  Steam introduced into the bottle will hasten the loss of flavour and aroma.  Steam will also result in the spices clumping together.
Make sure your measuring spoon is completely dry when you dip it into the bottle. Moisture introduced into the bottle will also result in caking and flavour loss.